Vivian Cortes Hodz, Esquire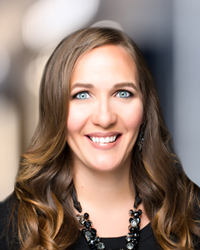 Partner
Email: vivian@corteshodzlaw.com
Vivian Cortes Hodz is the founding partner of the law firm of Cortes Hodz Family Law and Mediation, P.A. She has practiced exclusively family law her entire career with a focus on conflict resolution. Vivian began her career in public interest law as a staff attorney for Bay Area Legal Services, Inc. and after a few years, she transitioned into private practice working as an associate attorney for two small local family law firms. In 2008, Vivian opened her own law practice and has grown the practice, together with her husband and partner, Lawrence, into a well-established and respected law firm with three full-time attorneys on staff as well as five full-time staff employees as of October, 2019.
Vivian received her Bachelor of Arts degree in Criminology in 1999 from Florida State University and her Juris Doctor in 2002 from Florida State University College of Law. Vivian met her husband and partner, Lawrence Hodz, while in law school at FSU. They are Seminoles and enjoy returning to Tallahassee during the Fall. Vivian and Lawrence combined their personal and professional lives in 2010 and work together as partners of Cortes Hodz Family Law & Mediation, P.A. As parents, professionals and business owners they bring a unique perspective to the practice of family law in that they understand the challenges that daily life can hold and they recognize the importance of balancing all aspects of personal and professional life.
Vivian was born in Tampa in 1978 to parents of Cuban and Puerto Rican descent. Her parents worked several jobs to provide Vivian with a strong educational foundation at Villa Madonna Catholic School. Vivian graduated from Bloomingdale High School in 1996 and still resides in Brandon with her family. Vivian is proud of her Hispanic heritage and strives to provide legal services in Spanish, both as an attorney and as a mediator, to Spanish speaking clients.
In addition to her family law litigation practice, Vivian is a Supreme Court Certified Family Law mediator and conducts mediations for other attorneys and pro se litigants either in her office or other locations within Hillsborough, Pinellas, and Pasco counties. Vivian also is a Qualified Parent Coordinator and serves frequently as a volunteer and privately appointed Guardian ad Litem for children in family law cases.
Vivian has worked as an adjunct professor at Southwest Florida College and has presented on topics related to family law mediation and alternative dispute resolution during various continuing education seminars for the Florida Bar and the Hillsborough County Bar Association. Vivian has been recognized by Super Lawyers Magazine as a "Rising Star" in Family Law in 2015 and 2016 and a "Super Lawyer" every year since 2017. This recognition and honor are bestowed on less than 2.5% of lawyers each year. Vivian was also awarded the Leadership Excellence Award in Law by Hispanic Professional Women's Association in May 2013, the Florida Association of Women Lawyers 2017 Leaders in the Law Award, the Florida Bar Diversity and Inclusion Committee Outstanding Diversity Program Award on behalf of THBA, GEBA, and HCBA 2017 and the Luis "Tony" Cabassa Award in 2019 by the Tampa Hispanic Bar Association.
Vivian has been consistently and extensively involved in various local and statewide organizations and has held and currently sits in many leadership roles as listed below. Vivian loves being engaged and involved in the legal profession and enjoys mentoring young attorneys and aspiring bar association leaders.
Florida Bar member, September, 2002
Supreme Court Certified Family Law Mediator, 2009
Qualified Parent Coordinator, 2019
Hispanic Liaison to Florida Bar Board of Governors for THBA, 2016 – 2017
FL Bar Grievance Committee "B" member 2016-2019, Vice Chair 2018, Chair 2019
Board Representative on the FL Bar Program Evaluation Committee, 2016 -2017
Fellow of the Florida Bar Leadership Academy, Class II, 2014 – 2015
Florida Bar Voluntary Bar Liaison Committee member 2015 – 2018, Vice Chair 2017 – 2019, Committee Chair 2019 – 2020
Florida Bar Voluntary Bar Leaders Conference, Chair 2019
Florida Bar Annual Convention, Chair 2020
Florida Bar Annual Convention Committee, Vice Chair 2019, Chair 2020
Florida Bar Diversity and Inclusion Committee member 2017 – 2018
Hillsborough County Bar Association, Board of Directors, 2018 – present
Family Law Section of HCBA member
HCBA Family Law Section Executive Council Membership Chair 2010 -2017
Hillsborough County Bar Association, Bar Leadership Institute, Board of Directors Liaison to 2019-2020 Class
Tampa Hispanic Bar Association President 2016, President Elect 2015, President Elect Designate 2014, President Elect 2013, Vice President 2012
Bay Area Legal Services Board member 2014 – 2019
Hispanic Professional Women's Association member since 2010
Leadership Tampa Class of 2012
Florida Bar Family Law Section member
Hillsborough Association for Women Lawyers member
HAWL Diversity Committee Co-Chair 2016-2017
HAWL Solo/Small Firm committee member 2014 – 2016
Former Member of Family Law Inns of Court
Former Big Brothers/Big Sisters volunteer 2004 – 2008
Business Networking International Heavy Hitters Chapter 8/2018 – 8/2019